If you missed out on EBD65 which received a phenomenal market response, Emaar India now presents another limited-time opportunity – The Emaar Business District 114. A pulsating business hub in the making at one of Gurugram's most prime locations, EBD 114 is just ripe for making investments.
What makes it a blink-and-miss opportunity is that it is primed to see exponential commercial and residential growth and galvanise business to the next level in the near future.
Where is it located?
Emaar Business District 114 also known as EBD114 (RERA Reg. No. RC/REP/HARERA/GGM/451/183/2021/19), is strategically located in close proximity to Dwarka Expressway, which by dint of being well-connected to NH48, provides seamless access to all parts of Gurugram and New Delhi.
Why Emaar Business District 114?
The neighbourhood boasts of a flourishing community of more than 25,000 families, and an ecosystem comprising of elite schools, five-star hotels and the finest residential developments. Summarily, a conducive business environment in the new epicentre of Gurugram also makes it pre-destined towards becoming a socialising hub for people of all ages.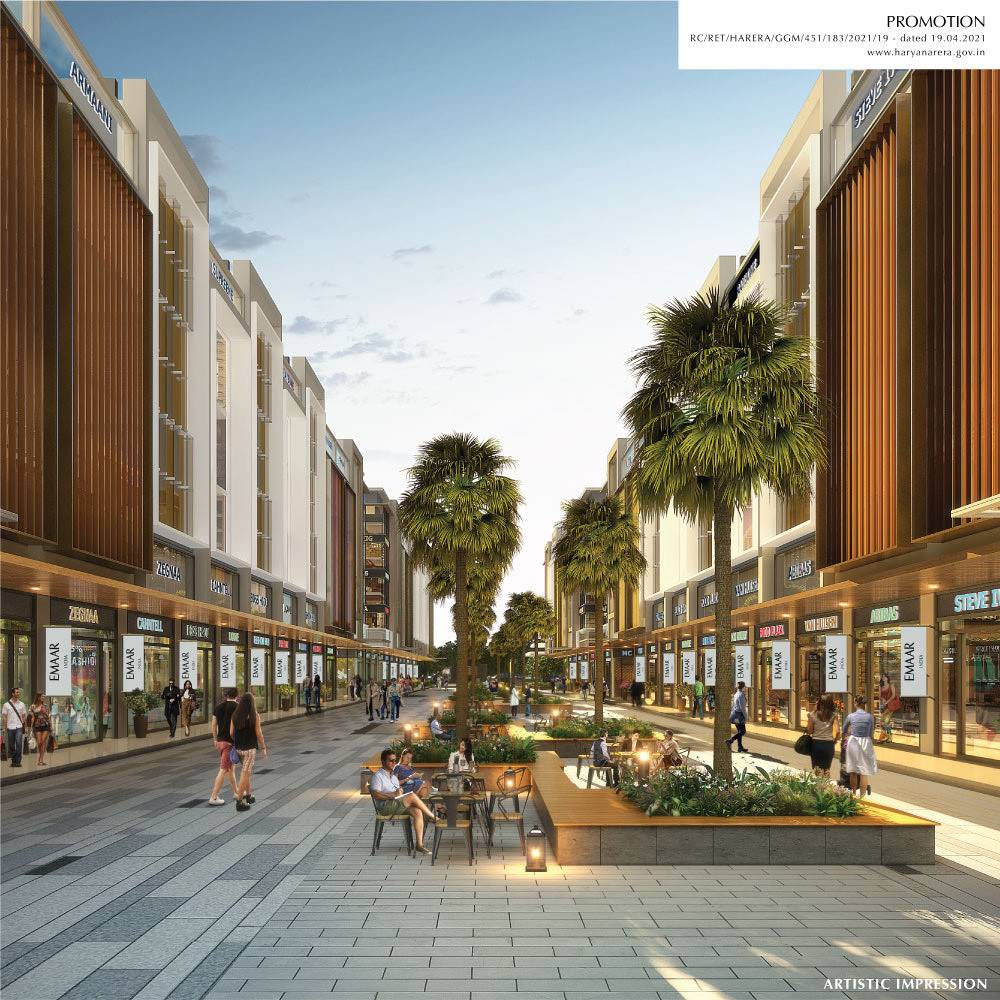 What can these SCO plots be used for?
The premium plots present ideal investment opportunities for restaurants, luxury showrooms, shops, supermarkets, medium-format retail stores, among others. Understandably, these plots can be custom-built to suit the diverse requirements of retail and office spaces. The SCO plots available can go up to five levels with ground plus four floors format.
Smartly sized between 89.47 sq. mts. and 183.95 sq. mts., these SCO plots are suitable for those who like to craft their spaces in modular formats. Ample parking space and beautiful surroundings are planned to ensure that EBD114 is markedly above the ordinary.
What's the future of Emaar Business District 114?
Emaar is known to have created vibrant landmarks (like the Burj Khalifa) that have redefined real estate across the Middle East, Africa, Asia, Europe, the USA and Canada. Its Indian counterpart, Emaar India, is a luxury real estate developer with a mix of residential and commercial projects spread across Delhi, Gurugram, Mohali, Lucknow, Indore, Jaipur and Coimbatore.
Coming to Emaar Business District 114, visualise, if you will, a planned commercial arcade with retail and offices, where hundreds of people can congregate for work or leisure while also getting their share of retail therapy – and you may well imagine the most arresting visual blend of work and play.
Source : TOI