The pothole-riddled 11-kilometre stretch between Sectors 99 and 115 connecting Dhankot with Delhi-Gurgaon border will soon be repaired by the Gurugram Metropolitan Development Authority (GMDA).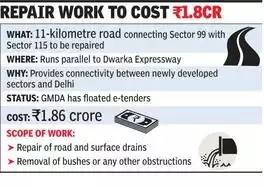 The metropolitan authority has already invited online bids for the work that will cost around Rs 1.86 crore, officials said.
The road, constructed by the Haryana Shahari Vikas Pradhikaran (HSVP) in early 2000s, sees heavy traffic each day, especially with the Dwarka Expressway still under construction. It is currently the main access road from the new sectors to the national capital, including the Indira Gandhi International Airport. However, nearly 10-km stretch of this road is dotted with craters and potholes that exacerbates traffic congestion, chaos and pose a risk of mishaps.
"The work will include repair of the road, surface drains and clearing bushes as well as any other obstructions. It is currently at the tender stage. Work will commence once it has been allotted," Major Shaveta Sharma, executive engineer, GMDA, said on Saturday. The Authority, she said, had floated tender inviting online bids earlier this week for a contractor to repair and maintain the stretch for 12 months.
Recently, chief minister Manohar Lal Khattar had directed the Gurgaon district administration to ensure that all roads damaged during the rains are repaired by November 30.
Local residents told TOI that the road was in a dire strait and needed immediate repairs, but for them seeing would be believing. "It is great that the GMDA intends to repair this road, however, we know better than to expect the work will be executed anytime soon," Nirmal Kumar, a resident of Sector 102, said.
The proximity to Delhi, he added, was actually a big perk and that is why several people chose to live in this part of Gurgaon. "However, our expectations have completely backfired. The Dwarka Expressway is nowhere near completion at present and this road is so difficult, and dangerous, to use. The craters are huge and the entire stretch is uneven," Kumar added.
Source : TOI