Gross absorption of office spaces across Delhi-NCR saw a more than 100% rise to 2.7 million sq ft during the second quarter of this calendar year as compared to Q2 of 2021, with companies gradually beginning to move towards pre-pandemic normalcy and expand operations after two turbulent years.

The survey by real estate consultant Colliers found strong leasing activity during the quarter, mainly driven by technology and flex workspaces.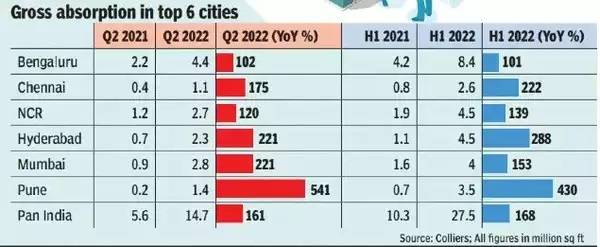 Delhi-NCR accounted for an 18% share of office space leasing, third after Bengaluru (30%) and Mumbai (19%). In Delhi-NCR, the absorption of office space increased from 1.2 mn sq ft in Q2 2021 to 2.7 mn sq ft in Q2 2022, which is close to 120% rise, according to the report.
In fact, Delhi-NCR and all the major real estate markets, including Bangalore, Hyderabad, Mumbai, Pune and Chennai, witnessed strong leasing activity during the quarter.
The absorption across these cities saw almost a three-fold rise to 14.7 million sq ft during Q2 2022 as compared to Q2 2021, Colliers said.
The demand for flex spaces remains robust, as these occupiers scout for fully managed, tech-enabled smart workspaces that offer a collaborative work environment.

Demand for good quality grade A buildings is likely to surge as occupiers prefer new offices with a better location, accessibility and replete with amenities, according to the report.
"Large deals (above 1 lakh sq feet) accounted for 47% of the total leasing during the quarter, affirming occupiers' strong expansion plans. Pan-India absorption has already surpassed 27 million sq ft in the first half of the year, signaling a strong revival in occupier demand," it added.
Ramesh Nair, Colliers India CEO, said, "The quarter saw increased office occupancy after a hiatus, as demand outpaced supply by a significant margin. Absorption in the first two quarters of the year has already surpassed more than 80% of the total absorption seen in 2021. Clearly, office demand is well headed to close at 40-45 million sq ft by the end of this year. Rentals are also likely to firm up in next two quarters."
Harsh Binani, co-founder of Smartworks, a cowork place solutions provider, said, "Flexible workspaces have become mainstream in the post-pandemic world. Enterprises are looking at multi-city deals while ensuring employee retention by allowing them to work from their hometowns. They are now open to divesting their office spaces to avoid unwanted long-term commitments and capital expenditure."
Anuj Mathur, senior director (engineering) Compass Inc, a real estate technology aggregator headquartered in New York, said the company has recently announced the opening of its third India Development Center (IDC) in Gurgaon after Hyderabad and Bengaluru as it's this country's top technology and business hubs.
Arvind Bali, the CEO of Telecom Sector Skill Council (TSSC), said, "As far as telecom and telecom-related technology talent is concerned, Gurgaon has emerged as a big talent hub with global support centres of telecom players also located here, the world-class infrastructure provided by workplaces especially the growing coworking spaces in Gurgaon is an added advantage."
Meanwhile, the developers are facing the brunt of the rising cost of construction, which has affected the new project completions during the quarter.
"We might see 10-15% of the planned project completions being pushed to subsequent quarters as developers are likely to take a cautious approach to tide through these challenges despite rising demand," Vimal Nadar, senior director and head of research, Colliers India, said.
Source : TOI