The detailed project report (DPR) for the metro line between Palam Vihar and Dwarka Sector 21, Delhi, is likely to be finalised by mid-July, according to the Haryana Mass Rapid Transport Corporation (HMRTC).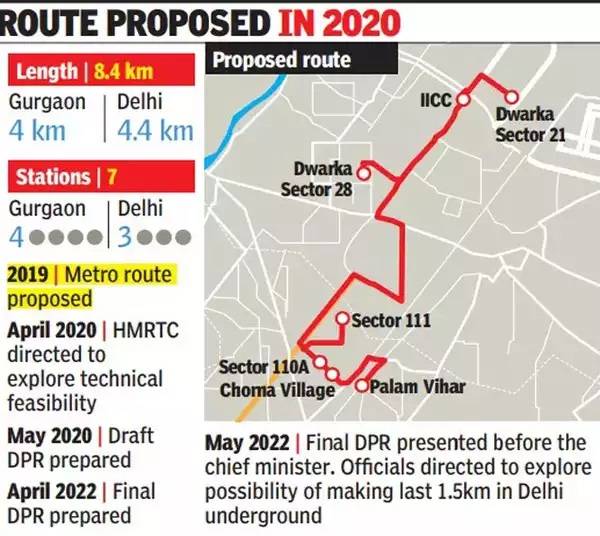 A senior HMRTC official said the draft DPR was presented to chief minister Manohar Lal Khattar on May 18. The CM then recommended exploring the option of an underground line in the last 1.5 kilometres of the route, which falls in Delhi. It was planned as an elevated stretch in the DPR.
"We are examining the possibilities of keeping the line elevated or taking it underground at Dwarka Sector 21. We will also be meeting the National Highways Authority of India (NHAI) chairman on Monday and request them to accommodate the metro alignment with the right of way (ROW) of NHAI," said the HMRTC official.
After that, the DPR will be finalised within 15 days and submitted to the Ministry of Housing and Urban Affairs (MoHUA) for approval, added the official. According to the DPR, the metro line will be 8.4 kilometres long, with 4km in Gurugram and 4.4km in Delhi.
The route will have seven stations, four in Gurugram and three in Delhi. Two of them will be interchange stations. In Gurugram , the stations will be built at Rezang La Chowk, Choma, Sector 110, and Sector 111, while the proposed stations in Delhi will be at Dwarka Sector 28, Dwarka Sector 25, and Dwarka Sector 21.
In April 2020, HMRTC received instructions to assess the technical feasibility of the metro line proposed in November 2019. It prepared the draft DPR in May 2020 and the final DPR in April this year.
"The metro line between Palam Vihar and Dwarka is a critical route. It is much-needed because if residents want to use the metro to move between these areas, they have to travel to Delhi and switch to either the Blue line or the Airport Express Line to return to Dwarka," said Sarveshwar Sharma, a resident of Sector 58. "Also, Palam Vihar and the new sectors the line will cover have no access to the metro yet. So, it will be a huge relief," he added.
Source : TOI