Smart World Special 26 Big Billion Property Sale 2023 in Gurugram
An opportunity of lifetime!
The 𝐁𝐢𝐠 𝐁𝐢𝐥𝐥𝐢𝐨𝐧 𝐃𝐨𝐥𝐥𝐚𝐫 𝐏𝐫𝐨𝐩𝐞𝐫𝐭𝐲 𝐒𝐚𝐥𝐞 in association with 𝐓𝐡𝐞 𝐓𝐢𝐦𝐞𝐬 𝐨𝐟 𝐈𝐧𝐝𝐢𝐚
Own A Property By Paying Just 26%*
Get 26 Months Free Maintenance*
26% Discount*
26 Months Lease Guarantee*
Get Confirmed Gifts on every booking that includes international trips, premium cars and lifestyle goods.
Hurry Up!! Book Your Dream Property Now. Offer Valid Till 24th January.
Invest In The Following Newly Launched Projects In Gurugram To Avail Special Discount :
Smart world One DXP Street
Smart World Orchard Street
Smart worldOne DXP
Smart world Orchard
Smart world Gems
TOP FEATURES
Residential and Commercial Projects
The best and in-demand residential projects and commercial projects in Gurgaon property management services of Smart World.
Assured Gifts
Cashing in on the opportunities presented to you during the Smart World Big Billion Property Sale will fetch you assured gifts.
Huge Discounts
Discounts like never before! Consider this the Smart World Special 26 Big Billion Day for Real Estate buyers.
Smart World Special 26 Big Billion Day for Residential Property in Gurgaon
Smart world One DXP
Smart World One Dxp Sector 113 Gurgaon launched  new high rise residential project in gurugram. Smart World Developers created the project, which is located in Sector 113. The project provides 2 and 3.5 and 4 BHK apartments at a reasonable price. The project is well-equipped with modern amenities and facilities to make residents' lives more comfortable and convenient.
Smart world Orchard
Smart World Orchard Sector 61 is fully equipped with all modern amenities to ensure that residents enjoy a luxurious lifestyle in every way. All of these low-rise floors are designed with luxury residences and world-class specifications and fixtures to satisfy aesthetic proposals and a beautiful life. You can choose between 2.5 and 3 BHK Luxury Lifestyle Low Rise Floors with Private Terrace and Personal Office. The posh interiors guarantee elegant interiors and a lavish ambiance that you will appreciate.
Smart world Gems
Smart World Gems City of Dreams Sector 89 Gurgaon offers spacious flats with plenty of natural light in every corner. The building has a stilt + 4 floor design and offers 2.5 and 3.5 bedroom apartments. These opulent builder floors feature modern features and amenities such as Smart Card Home Entry, Double Heighted Air-Conditioned Lift Lobby, and Electric Vehicle Charging Points, among others. Balinese scenery, lush green landscape parks, open lawns, and tree-lined streets surround the apartments, allowing you to refresh and re-energize. Smart World Floors Sector 89 Gurgaon is the best place to experience premium low rise residential floors with a completely new and innovative design.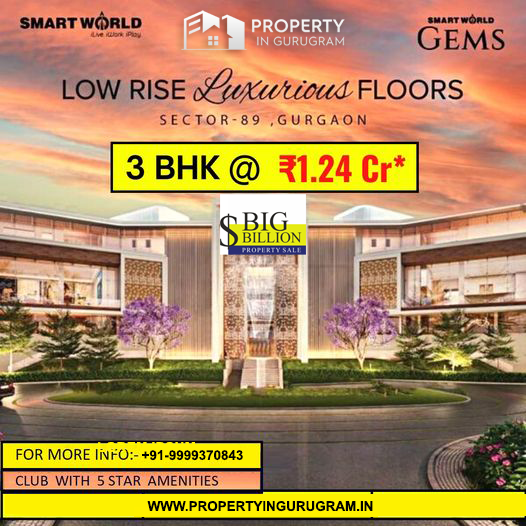 Smart World Special 26 Big Billion Day for Commercial Property in Gurgaon
Smart world One DXP Street
Smart World One DXP Street is a brand-new commercial property in Sector-113, Dwarka Expressway. This is a premium situation that will be a luxurious high street like no other, second to none. With a better plaza and a larger land area, this property will be one of the most important properties in town.This project is one of Smart World's masterpieces, with its unique design that has been completed. It is a far-ahead development that is meticulously planned with high-retail units. The cutting-edge technology with superior amenities will clearly soar.
Smart World Orchard Street
Smart World Developers brings you a stunning property called Smart World Orchard Street if you are looking to buy a luxurious commercial unit in Gurugram. This is a one-of-a-kind high-street retail project in Gurugram's Sector 61. The best connectivity draws the most people to this location. The property is constructed with high-quality materials. If you purchase this luxury property, you will have peace of mind. One of the best architectural teams created this High Street. Retail space will be an example of commercial space created to provide opulent amenities. This luxury contains everything.